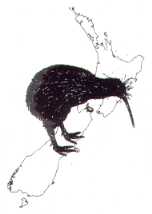 Research Archive
This archive is in five parts: a) Previously unpublished research by members, b) Original Official New Zealand Documents c) Campbell Paterson Newsletters and Bulletins, d) Articles republished with permission from journals and magazines, e) Exhibits.
Research by members of the Society
A series of research monographs by Terry Hancox on New Zealand Postage Stamps Errors and Varieties:
Crown with Circle:
An 18 page study of "New Zealand Crown-within-Circle Steel Date Stamps" by Paul Woods can be viewed here.
Airmail rates 1931-1932: Corrections to the tables in sections '25 February 1931' to '1 June 1932' of the book: New Zealand Overseas Airmail Postage Rates (1930-2011) by Robin M Startup can be viewed here.
An article describing the changes in rates was published in: Robert Clark and Bob Watson, Via North American Air Services: 1930-39, The Kiwi, vol 65, no 3, p 82-87, May 2016.
A listing of all known Personalised Stamps from mid to December 2019 (when NZ Post stopped the CALs) written by two of our members, Tony Ward and Jo Blyth is available here while the 2020 list is available here.
Original Official New Zealand Documents
This is a collection of New Zealand Government documents and the list is given here. There are three separate sections.
Acts relating to the early New Zealand Post Office.
New Zealand Gazettes relating to early postal rates.
New Zealand Postal Guides.
Campbell Paterson Newsletters and Bulletins
We would like to thank David Holmes for giving us permission to host them on our website and we acknowledge Auckland City Stamps/Campbell Paterson Ltd in their support of the NZ Society of GB by making these Newsletters and Bulletins available. The Campbell Paterson Newsletter is available here and the Campbell Paterson Bulletin is available here.

We would like to thank member John Biddlecombe who has scanned the Newsletters and Bulletins into pdf format.
New Zealand philately articles
A collection of previously published articles on New Zealand philately can be accessed here. They have been republished with the permission of the journal or magazine.
Exhibits
Mrs Purdon Illustrated Covers: Scans of many Mrs Purdon handpainted covers were added in February 2014 and updated in January 2015 and January 2019.
UPU Conventions
Copyright © 2023 New Zealand Society of Great Britain. For personal, non-commercial, charitable and educational use only. Any use should acknowledge the source.